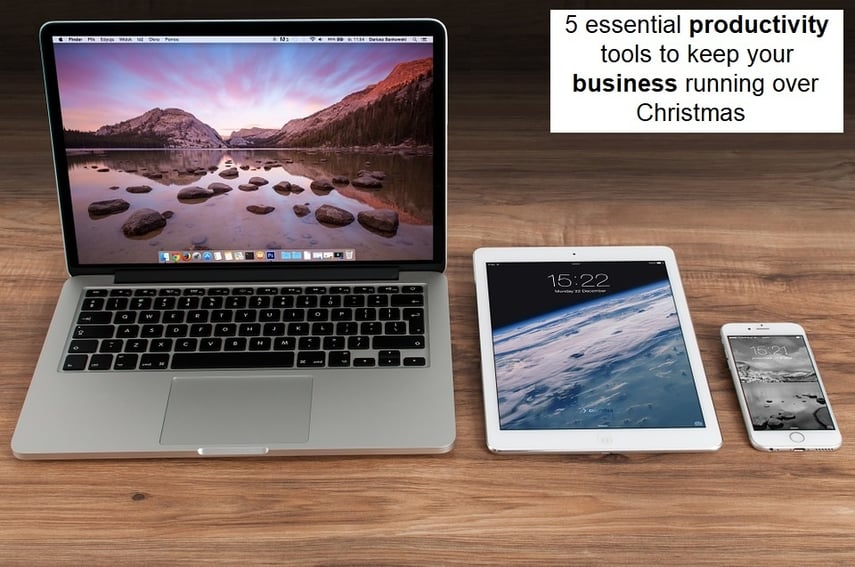 When it comes to the festive period, preparation really is key. Instead of letting your employees switch off in the run up to Christmas, losing vital productivity, why not use this time to get ahead on work?
Some effective productivity-boosting techniques include encouraging healthy eating, introducing some competition and reviewing your office environment. But with the rise of digital technology, an endless list of time-saving tools have been created, some of which we've talked about before.
Combine the productivity-boosting techniques we mentioned above with these 5 essential tools and you'll be able to truly sit back and relax over the Christmas break.
This email marketing software is a great tool to keep your customers engaged over Christmas. You can use Mailchimp to create a range of exciting email campaigns with anything from New Year promotional offers to a festive message from the team. The great thing about this free tool is that it's really easy to use. You can choose from various ready-made templates and then drag and drop different segments to customise the email to match your brand. Mailchimp even allows you to schedule your emails in advance – why not schedule a 'Merry Christmas' email to go out to your customers on Christmas Day with a special deal or promotion?
With over 65 million businesses using Facebook, you may be one of the many people checking your company's social media accounts over the Christmas break. You can use this easy tool to schedule posts across a wide range of social media platforms including Twitter, Facebook, LinkedIn and Google+. Your marketing department could write some posts to keep you going over the festive period and then use Buffer to schedule them. This means you won't have the unnecessary pressure to constantly check your social media over Christmas, so you can all take the break you deserve. Of course, if you do end up checking your Twitter timeline, you can still live-post too!
As a business leader, it's only realistic that we'll end up doing some work over the Christmas period no matter how hard we try. Google Docs can be a fantastic tool for collaborating on work remotely. This means that if you want to stay at home and relax by the fire with a warm cup of mulled wine whilst doing some work, you can! It's really easy to use and you can also share documents with other people. Google Docs allows you to work on a document at the same time as your team, and you can even see each other's changes as they happen.
Use this insightful tool to keep track of any brand mentions on Twitter over the festive period. You don't want to be constantly checking notifications across your break, so you can get real-time email alerts from Twilert any time that your brand is mentioned. You can even customise your search results to exclude certain keywords and only show tweets from certain locations. Use this great tool along with Buffer to keep your Twitter followers engaged over Christmas.
With a virtual office, you won't need to worry about answering your phone over the Christmas break. Of course, you could always record an out of office voicemail, but does that promote the professional image that your customers are looking for? It's essential for your business to be presented as professional and reliable. With a business phone number at Carrwood Park all of your calls will be answered within just three rings by a friendly, experienced receptionist. Now that's the kind of service your customers deserve…
Using a combination of these tools and other tools we've mentioned before, you'll have the freedom to take some well-deserved time off this Christmas. For more business advice, why not subscribe to the Carrwood Park blog?
A virtual office at Carrwood Park can be a great way to establish and build the credibility of your brand, from our Virtual Leadership Package to our Reception Answering Service & DDI Membership. Call our friendly team today on 0113 385 4480 to find out more about our virtual office packages.