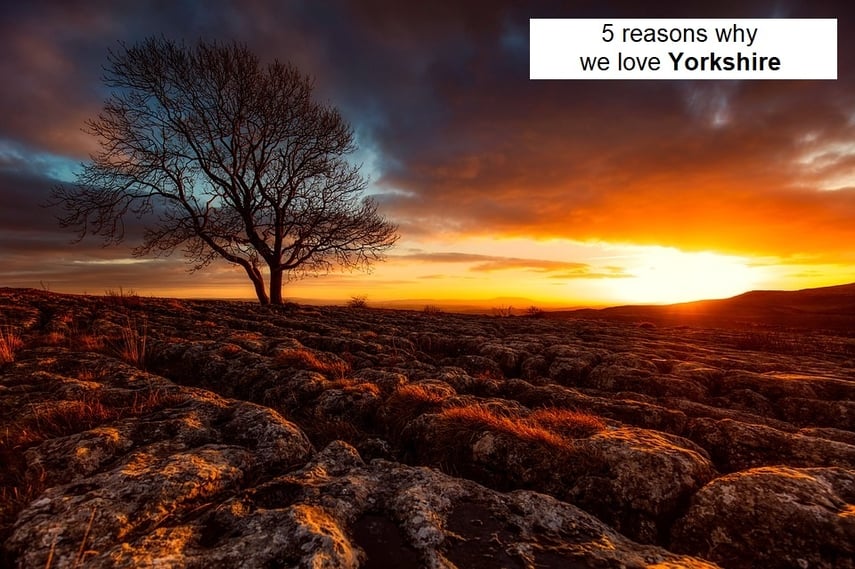 First and foremost – Happy Yorkshire Day from everyone at Carrwood Park! We've been celebrating our favourite county on earth for hundreds of years, but it wasn't until back in 1975 when Yorkshire was rewarded with its own national day.
Often described as 'God's Own County', there are so many reasons why Yorkshire is so widely celebrated and loved. From the stunning coastline to the sporting achievements, it's no surprise that Yorkshire was awarded 'Europe's Leading Destination' in the World Travel Awards.
So, in celebration of the 43rd annual Yorkshire Day, we've come up with our top five reasons why we love Yorkshire.
1. The business scene
Home to some of the UK's most thriving hubs including Leeds, Sheffield, Bradford, Harrogate and York, there's no doubt that the Yorkshire business scene is among the most successful in the UK. It's no surprise that huge organisations, such as Sky, Jet2 and Burberry have opened offices in Yorkshire to take advantage of the buzzing business scene. And with Leeds earning the title of the UK's fastest growing city, Yorkshire really is raising the bar for the rest of the UK.
Did you know that Yorkshire is also home to some of the largest business events in the UK, for example the Sheffield Business Show and Buy Yorkshire? These annual events have a huge impact on the region's economy, with Buy Yorkshire having an economic impact of almost £50 million.
2. The Yorkshire spirit
There really is no beating the Yorkshire spirit. Very few places are as proud of their culture as us Yorkshire folk. And rightfully so! From the Yorkshire Dales to the county's fascinating history, there's a lot for us to be proud about. Even the unreliable Yorkshire weather can't beat our spirit! Whether you're spending the day exploring the dales or you're at a meeting at Carrwood Park, odds are you'll witness the brilliant Yorkshire spirit live in action…
3. The perfect mix of city and countryside
One of our favourite things about Yorkshire is its perfect mix of rural and urban areas. You could be surrounded by trees and green spaces, but still only be a short drive from the city. In fact, at Carrwood Park, we're a perfect example of this. You can find our luxury business park on a renovated farm, set amongst 100 acres of green spaces, with over 1,200 trees. And we're still just 15 minutes from Leeds city centre, two minutes from the M1, and 30 minutes from Leeds-Bradford International Airport!

4. The food and drink
Did you know that the earliest mention of a 'Yorkshire pudding' was in Hannah Glasse's Art of Cookery in 1747? Yorkshire is well known all around the world for it's delicious food and drink, but in recent years it's also developed a reputation as a popular street food destination. With street food events such as the Sheffield Food Festival, World Curry Festival and Leeds Indie Food Festival, just to name a few, Yorkshire really is maintaining its position on the global food map.
Yorkshire is also home to some of the most popular food brands in the UK, with brands like Haribo, Seabrook Crisps and Rowntrees all originating in the beautiful county. And who could forget about Yorkshire Tea?!
5. The people
If you're from Yorkshire then you'll know why us Yorkshire folk are often described as some of the friendliest in the world. In fact, research also suggests that we're the happiest people in the UK – and who can blame us? From a friendly 'ey up' whilst walking down the street, to that all-revealing Yorkshire accent, you could spot a fellow Yorkshireman from a mile away!
It's clear to see why we love Yorkshire so much! But it's not just us at Carrwood Park that have capitalised on the growing opportunities up north. Did you know that Yorkshire is home to the country's largest financial centre outside of London?
Are you looking for high quality offices in a beautiful, rural Yorkshire location, with easy access to the splendour of Leeds city centre? Have you seen what we can offer at Carrwood Park?
From serviced offices or co-working spaces to meeting rooms or virtual offices, our luxury business solutions have all been designed specifically to encourage business growth. Why not get in touch with us now to find out more?