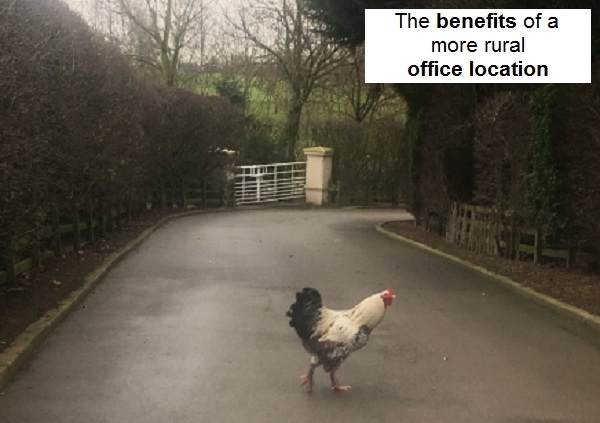 When searching for a new office space, your first thoughts may be to look for a location in a popular city with easy transport connections, a thriving business scene and plenty of local amenities.
And we couldn't agree more! But we think there's an even smarter option… There are certain benefits to rural office locations that simply can't be achieved in the city.
Now we're not saying to invest in office space in the middle of nowhere, but what if you could reap the benefits of a slightly more rural office location that still offers easy access to the city?
With this in mind, here are some of the benefits of a more rural office location.
More for your money
With office rental prices skyrocketing across London and the rest of the UK, it's harder than ever to find high quality office space at an affordable price. And with average city rents often reaching over 50% more than their out-of-town counterparts, you really are getting so much more for your money with a rural office.
More pleasant office commute
If you've spent your life working in the city, it may be difficult to imagine anything other than an unpleasant office commute. But one of our favourite things about working from a more rural office location is being able to truly enjoy the commute. With less traffic, beautiful scenery and a more stress-free ride in general, there really isn't much to complain about. Just imagine being able to avoid the congested roads and drive straight in to free onsite parking with a freshly brewed coffee waiting for you…
Free parking
Have you ever found yourself scrambling for change in a busy city centre car park? With a more rural office location, free parking tends to come as standard. For example, at Carrwood Park we have enough parking spaces for all of our residents and any visitors they may have – and it's all completely free of charge!
Less noise
The constant noise of traffic, sirens and general city life can sometimes get too much. But in more rural office locations you'll rarely be disturbed by such things, giving you more time to focus on business. You could even take a peaceful walk at lunchtime to clear your head – if you've ever worked in a busy city, you'll know that this can be hard to achieve.
Easy access to the city
Location is by far one of the most important things to consider when choosing office space. A more rural location may give you better access to other facilities than a city location would. For example, at Carrwood Park we're just a 15-minute drive from Leeds city centre, whilst still being less than 30 minutes from Leeds-Bradford International Airport and just two minutes away from the M1.
Surrounded by nature
Being surrounded by nature really does have its perks. It can help reduce stress, improve your mood and improve your cognitive performance. This can also have a positive impact on employee productivity, with a 15% increase in productivity when greenery is introduced to the workplace. Just imagine what could be achieved in a workplace set on 100 acres of land, containing 1,200 trees! Not only that, but at Carrwood Park we're committed to constantly improving the sustainability of all environmental aspects within our luxury business centres.
As an eco-friendly office provider, we can tell you first hand that a clean, positive and efficient environment can have a drastic impact on business success. This combined with the benefits that come with a more rural office location is the kind of thing that sets us apart from your standard business centre.
Are you looking for a workspace in a more rural location, with easy access to Leeds city centre, Leeds-Bradford International Airport and the M1? Why not get in touch with a member of the team at Carrwood Park?