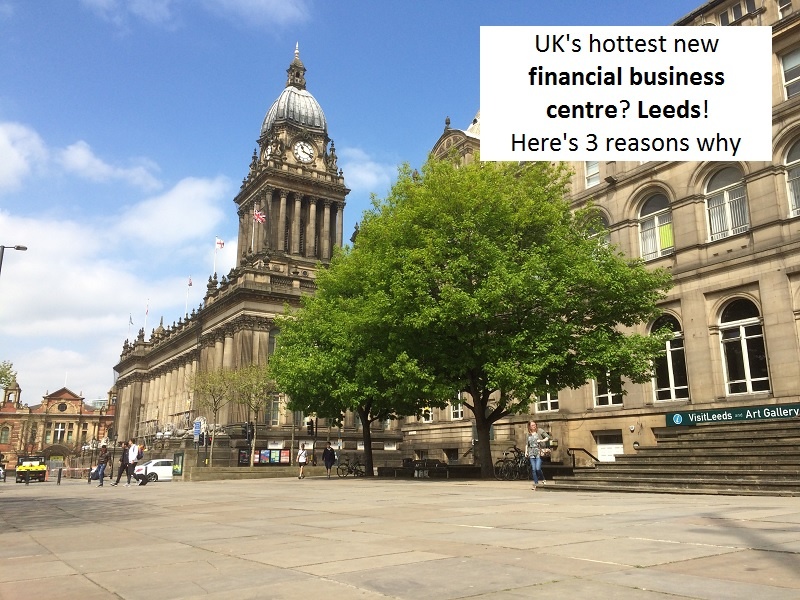 We've always believed that Leeds is a great city for businesses to thrive in, but did you know that Leeds is Britain's second largest economy? Given its status as the country's largest financial centre outside of London, it's hardly surprising the Yorkshire city is a leading location for financial services firms.
From bankers to accountants, bookkeepers to financial advisers, more and more financial firms are moving to Leeds, keen to get a slice of the unique business opportunities the UK's second financial hub provides.
We look at some of the reasons why a growing number of financial firms are making the move to Leeds:
1. Cost-effective office space
It's no secret that in recent years commercial property rents have skyrocketed in London. According to research by EY, commercial property rental prices in the capital have risen by 70% in five years. Between 2010 and 2015, the average rent of commercial property has increased from £33 to £55 per square foot. Due to these rising prices, finding affordable office space in London can be a challenge for many financial firms.
In contrast, Leeds offers a much more cost-effective solution for businesses, regardless of whether they're established organisations or start-ups – even some of the best offices in Leeds can cost less than London offices. In short, offices to rent in Leeds would provide financial firms with much more for their money than if they were renting in London.
"Leeds City Region is a prime location for financial and professional services, proven by the wide range of companies we have already attracted, from global banks to innovators in financial technology. Our unparalleled and cost effective access to the right skills, infrastructure, business networks and innovation has seen our region named the UK's second centre for banking, and a Financial Centre of Excellence."
2. Access to the right talent
Leeds and its vicinity is home to a whopping nine higher education establishments – in fact, Leeds has the largest number of universities outside of London. With many students deciding to stay on in Leeds after graduating, a large proportion of the region's 40,000 financial service employees are made up by the huge graduate population.
There are currently over 100,000 students in Leeds, providing no shortage of potential talent for businesses to pick from. With this vast number of graduates on-board, financial firms, such as banking institutions and accountants, put themselves in a much better position for sustained, high quality growth.
3. Helping to rebalance the UK economy
A report published by the government in 2015 noted how Leeds is at the centre of Yorkshire and the Humber's financial services sector. At the time the report was drawn up, the sector employed 128,000 people and generated more than £10 billion for the British economy annually.
As a financial business centre, Leeds is at the heart of the government's ongoing drive to create a Northern Powerhouse and rebalance the UK economy.
Harriet Baldwin, Economic Secretary to the Treasury at the time, said of Leeds:
"Yorkshire's thriving financial sector is a great success story for the region, helping to build a strong Northern economy. It is great to see first-hand how Britain's financial sector is thriving in Leeds."
Being the UK's largest financial hub outside of London, the importance to sustain growth within the financial sector in Leeds is a priority. Consequently, businesses in Leeds can take advantage of the strong sense of support the city offers to companies of almost every sector and size – for example, the Leeds government offers business grants to encourage growth.
The savviest of financial firms in the UK recognise the status Leeds preserves in being a key Northern Powerhouse driver. Such firms are taking advantage of the advice and other business support provided to companies which are either relocating or starting up in this buoyant business hub.
With continuing investment in Leeds, a consistent barrage of talent entering and staying in the city, and cost-effective offices to rent in state-of-the-art business centres, it's not difficult to understand why there has been a surge of financial firms relocating their services to the vibrant city of Leeds.
If you are a financial firm looking to relocate to take advantage of the unique opportunities offered in Leeds' business scene, Carrwood Park's business centre can provide the perfect home for your relocation to Yorkshire. To learn more about our high-quality offices to rent in Leeds, arrange a viewing at Carrwood Park.