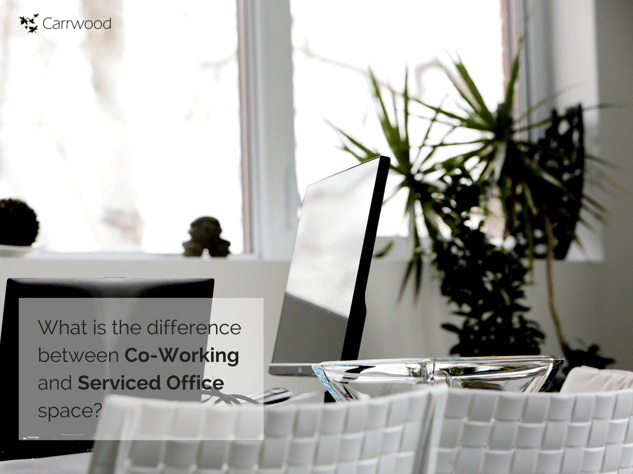 As your business develops, it makes sense to review your location periodically. Your style of working and size of operation may be better suited to either a serviced office or to a co-working hub. This post aims to help by reviewing the similarities and differences between these two options.
An analysis of the benefits of co-working, over a two-man-serviced-office has already been considered here which you may find useful to read in conjunction with this post.
What Serviced Offices and Co-Working Space Have in Common
Co-working is a rising global trend well documented in places such as Deskmag http://www.deskmag.com/en/these-major-coworking-conferences-events-barcamps-will-take-place-in-2015 and no longer considered a new phenomenon. There are a range of facilities which should be 'a given' on your checklist, whether you opt for either co-working space or a serviced office. Whichever you choose, make sure you have access to all of these amenities;

On-site parking should be available and free of charge for you and your visitors.
A professional reception service to greet your guests and direct them to the meeting.
High speed Wi-Fi for quick, uninterrupted internet usage.
Phone and postal services on offer.
Meeting facilities in the form of bookable rooms and also atrium seating for informal conversations.
Access to a kitchen, with tea and coffee making equipment and a fridge for general use readily available.
Bathroom amenities should be modern and well maintained reflecting the standard of the rest of the building.
How Serviced Offices Differ from Co-Working Space
Whilst you should expect to have all the services described above for a comfortable, productive working environment, it is the next few points which should help you decide what is right for your business.
The area you need is determined by the number of people employed locally. Co-working space is ideal when there are only one or two people involved; more than that, serviced offices may become necessary.
How you secure your property and personal items differs slightly. A serviced office can be locked up at the end of the day, but don't let that put you off desk sharing hubs. Co-workers can have access to their own lockable cupboards.

Having a serviced office allows for signage which reflects your branding. A logo on your door is one benefit of having your own office.
Some larger serviced offices have a dedicated meeting room which is not shared with others, such as the ones found at Carrwood Park, but this is not standard. If you need this service, it is usually an add-on to the typical package and not all complexes can supply this additional space.
Making the Choice
If you're considering co-working space, look for a location which offers serviced offices too. As you expand your company, there'll be the flexibility to upgrade without the need to relocate. That will make your life easier as it will save you the hassle of moving, updating your website and SEO information and the cost of re-printing all your stationery. That's not to mention avoiding inconvenience to clients - who you might lose if they get lost looking for your new place!