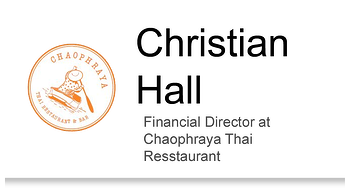 Chaophraya Thai Restaurant
was founded in 2004, and has expanded to include 9 restaurants across the UK, including locations in Birmingham, Edinburgh, Glasgow, Leeds, Liverpool and Manchester. Besides Chaophraya Thai Restaurant, they also operate ChaoBaby, located in Manchester and Sheffield, and Yee Rah Bar and Grill in Liverpool.
Christian and Chaophraya have been using the meeting room facilities at Brookfield for around 6 months in total, but one month ago decided to locate their head office to Brookfield Court:
"Our main offices are in Brookfield and have received nothing but positive comments about the service, style, quality of fit out and tranquil setting, all of which we as a business want to provide. It's part of creating a quality brand. All the staff across both sites are fantastic and always working with a smile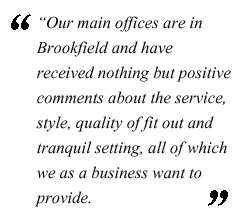 From meeting Oliver and his team over 6 months ago, they have provided a solution that really works for us. They really do live and breathe the business"
Christian explained why moving into serviced offices at Brookfield was the best option for him and the business:
"Serviced offices gave us great flexibility, providing a 'working solution' including fully equipped offices, hot-desks, meeting rooms and a wide range of secretarial support services. Quite simply, it grows with you as a business.
With no capital investment required to buy or lease office furniture, using Brookfield's serviced offices has allowed us immediate access to a fully furnished and well-equipped workspace. This takes away the 'hassle' of managing an office, allowing us to concentrate solely on our business, while in turn reducing our financial risk to the cost of the minimum rental period."
When asked about Brookfield Court itself as a location, Christian listed his top 3 features that make it stand out from similar office spaces in the area:
"1. Quality of the offices, which have a relaxed atmosphere and an idyllic setting. The ambience of the setting is really unique. We couldn't ask or a more ideal location for our business.
2. Prime location just a minute away from J46 of the M1. For both our team and visiting clients, the location gives unbeatable convenience for all purposes.
3. High quality overall service from the team. Oliver and the team tailored a solution to suit Chaophraya. And out of all the serviced offices we looked at, we found them the easiest to deal with, as well as the most helpful, friendly and professional. They know their business inside out.
Christian Hall, Financial Director at Chaophraya Thai Restaurant
---