SNT
is a service sector group focusing on the provision of business services which include Business Process Outsourcing, IT Managed Services, Software Development, Financial Services including Asset Leasing, Principal Contracting and Electrical Services.
SNT works with businesses throughout all vertical sectors to provide a single business process outsourcing solution, through a modular framework of services.
SNT Group was formed in 2003, and has always located its HQ in the Leeds area. The company has maintained its Head Quarters at Brookfield Court on Carrwood Park since 2011.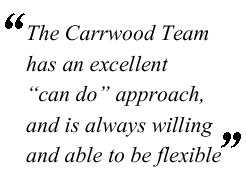 "We were looking for high quality offices with good motorway links, and were attracted to Carrwood Park because of its proximity to the M1. As well as our office-based team, we also have a team of mobile staff who are responsible for our services nationwide.
In addition to the excellent service and office quality offered at Brookfield Court the proximity of the motorway links was an important factor in our decision to move to Brookfield Court.
Brookfield Court is bright, open and spacious, and every office has plenty of natural light."
We wanted a professional office space, as Brookfield Court is our HQ and therefore a centre piece for the SNT Group to use for meetings with clients and partners, the office environment therefore had to be somewhere people could enjoy working or visiting.
We base a number of our business units from Brookfield Court and high quality work areas were important to us, along with good communal space. The atrium at Brookfield Court is spacious and allows staff space for impromptu meetings, space to relax during breaks whilst the grounds provide a pleasant backdrop.
The security of the office space and also 24 hour access is an important feature at Brookfield Court, especially within our IT businesses with their 24/7/365 operational requirements.
Other business parks just didn't have the facilities that are available to us at Carrwood Park. Here, we sit down with the management team at Brookfield Court and work out how the space can be made to work best for us. The Carrwood Team has an excellent "can do" approach, and is always willing and able to be flexible. All of the staff here are very helpful, and we have established a great relationship with the onsite team.
The Carrwood Park Team will always go the extra mile to make sure we have a suitable working environment and the office is kept to the highest standards.
The many things that stand out at Carrwood Park for us include: the high quality finish; the spacious feel; the excellent facilities; the highly-maintained building and grounds; the security and 24-hour access; the flexibility of the space; the communication links; and the fact that the place is always kept exceptionally clean.
I would certainly recommend Carrwood Park to othersn." looking for high quality office accommodation.
---